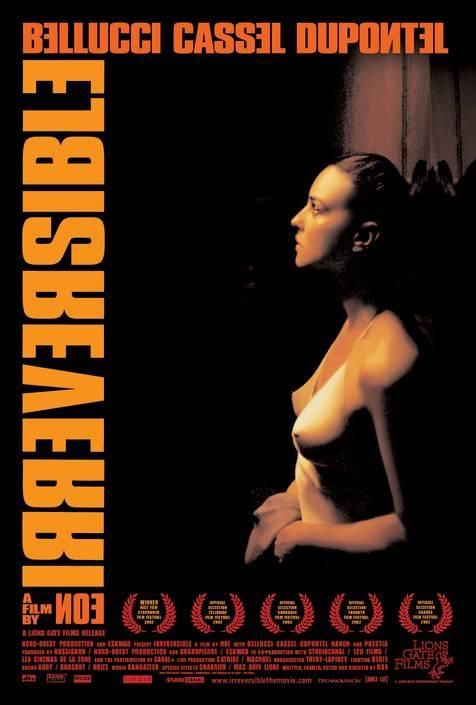 irreversible
- time destroys everything
haha some trivia & stuff i guess. it makes u wonder if i director did e movie as a form of artistic expression or to attract controversy over those graphically intense scene where u have ppl bashing up skulls with a fire extinguisher & another person being raped for quite a while. ok tt sounds wrong but as for e controversy part, i guess it worked cus i was curious to find out what actually happened that made it such a hoo-haa to movie goers.
"Irreversible"'s graphic violence and flinch-inducing rape scene (eight minutes, uncut) made headlines when the film premiered in Cannes last May, with reports of audience members fainting, throwing up, or just plain walking out.
The French DVD release proudly proclaims in the blurb on the back that of 2,400 people at the film's Cannes premiere, 200 walked out.
The first 30 minutes of the film has a background noise with a frequency of 28Hz (low frequency, almost inaudible), similar to the noise produced by an earthquake. In humans, it causes nausea, sickness and vertigo. It was the main cause of people walking out of the theaters during the first part of the film in places like Cannes and San Sebastian. In fact, it was added with the purpose of getting this reaction.
~~~~~~~~~~~~~~~~~~~~~~~~
Cannes film sickens audience
One of the last films to be screened at this year's Cannes Film Festival proved so shocking that 250 people walked out, some needing medical attention.
Irreversible, directed by Franco-Argentinian director Gaspar Noe, describes a woman's rape and her boyfriend's bloody quest for revenge.

Fire wardens had to administer oxygen to 20 people who fainted during the film - which includes a 10-minute depiction of sodomy and also contains graphic scenes of rape and murder.
The film has received mixed reviews from critics, but those remaining in the audience at the end of the early Saturday morning screening gave it a five-minute standing ovation.
Italian actress Monica Bellucci, whose character is raped and beaten in the film, said it was good to let people feel a range of emotions.
"This is a film that people love or they hate, but it's good to have these kind of extremes," she said.
'Sick' and 'gratuitous'
Critics had walked out of Thursday's screening of Irreversible, describing it as "sick" and "gratuitous".
Fire brigade spokesman Lieutenant Gerard Courtel said: "In 25 years in my job I've never seen this at the Cannes festival."
Even Monica Bellucci admits she cannot watch some of the scenes without looking away.
Before playing the part, she watched films such as The Accused and Deliverance to toughen herself up.
Ms Bellucci insists that her father, who was at the premiere, enjoyed it.
"It was hard for him to watch, but he loved it," she said.
The film has also gained praise from critics impressed with its artistry, clever camera work and unrelenting examination of the pure anger that drives revenge.
Now the eight-person jury - which includes US director David Lynch and actress Sharon Stone - must mull over their choices for the coveted prize for best film, which will be bestowed late on Sunday in a glittering ceremony.
Irreversible was among the last 22 films to be shown in this years' Cannes Film Festival.