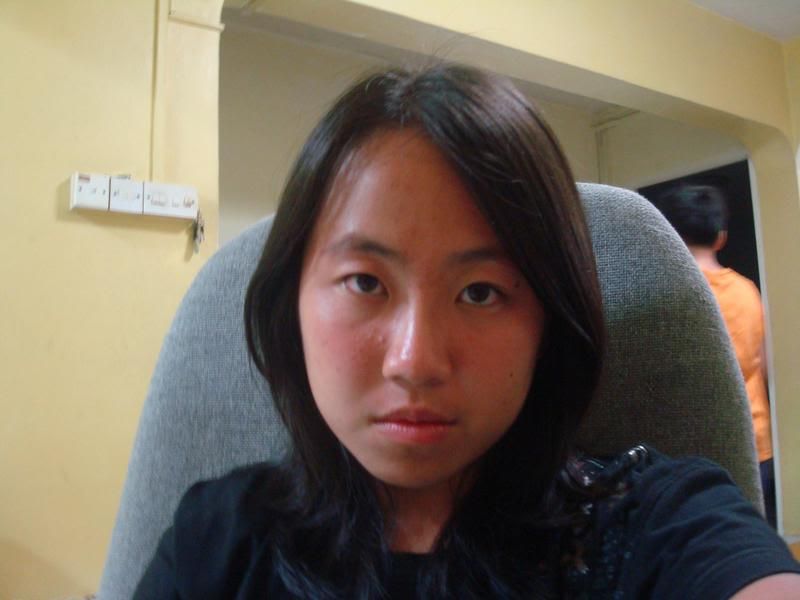 yesh i've taken a liking for camwhoring when i'm bored. my sch stuff hasn't been going as well as i wanted it to be.... again. like u know. wadever. my boss said friends dun like their frens to complain too much. yar. i'm really complaining too much so i think i'm pissing off all my friends. and i'm going to be a typical bimbo soon. assholes. slap me
due to sch stress and me combining my breakfast and lunch to just egg and bread, my weight has been dropping. from 60 kg during march to 53kg now. amazing isn't it? i hope it drops more. den i can advertise for marie france. MUAHAHA
and yeah, i know it's already halfway thru april but here it is. *takes a deep breath*
i would like to thank these people
faith
weilian
chee
zhixin
miao
wenxin
backrow peeps- julia, mel, shihui etc
LIMTWINS XD
junjie
chenjing
zhuangjing
and the list goes on (i hope i've not missed out anyone)
for the most wonderful 31st march i've ever had for this really bad year. i feel really loved and i know that i am nt alone.
because i've come to realise that as we all go our separate ways, we've become so flustered in our own world, trying to get use to uni exams/life or working life, i think little things like rmbring ur frens birthday is really really a big deal. so for all the wonderful memories that we've shared when we were still students and the short gatherings we're having now, i thank u and i'll cherish them. cheers to life. and i love u all.
~~~~
can teacher's be friends?
somehow i'm just having difficulty trying to understand what u've been trying to get across
are we just being old fashioned or is there really a boundary that u can't cross?
if being friends means that u can influence them positively, why not?
why draw a boundary?
how can u respect someone who behaves so seriously and stern in class and den start spewing vulgarities or go crazy in the staff room? aren't u acting in front of the kids, trying to be someone u're not?
how do u teach? how do u inspire?