我20岁了
自生病以来已经过了5年
拥有的东西逐一失去
剩下的仅有几样而已
已经想不起以前的我了

花瓣一片一片地绽放
花朵也不是一下子全开的
我明白昨天是与今天紧密相连的
好高兴

妈妈 我到底为了什么而生存着
大家的哭泣的表情因为眼泪而变得模糊
我一定会因为这种小事死掉吧

仅仅一句不会丢下你
让我多受鼓舞啊
医生 谢谢你没有丢弃我

把手放在胸口
能感觉到心跳的声音
好高兴啊 我还活着

我要承认现在的自己 生活下去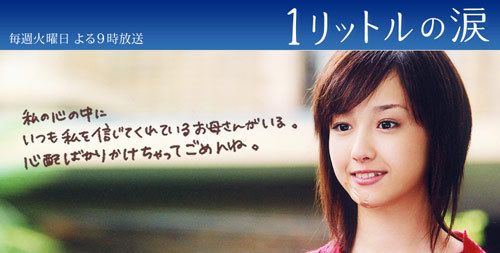 1 Litre of Tears (1リットルの涙, Ichi Rittoru no Namida?) is a Japanese television drama for Fuji Television about a girl who was diagnosed with a disease called Spinocerebellar Degeneration when she was 15 years old, and was able to continue her life until her death at the age of 25 years old.
The plot is based on the true story of a Japanese girl named Aya Kito (木藤亜也, Kitō Aya?, July 19, 1962 - May 23, 1988), who had the same disease. She kept writing in her diary to remember her experiences until she could no longer hold a pen. Aya simply wished to live until the end of her life, and the purpose of writing in the diary was to remind herself to not give up. She shed tears many times, at the same time encompassed by the rich love and support from her family and friends. Her diary titled 1 Litre of Tears was published shortly after her death. It encouraged many people, healthy or diseased, because of its inspiring and courageous messages. As Aya wrote, "
Just being alive is such a lovely and wonderful thing
."